Smartage GRP Tank – Technical Details
Smartage GRP tanks are manufactured by Potaglas® Malaysia Sdn. Bhd. The manufacture, testing & installation of GRP water tanks is governed by Singapore Standard SS 245:1995 (now updated to SS245:2014).
Potaglas Malaysia Sdn. Bhd. manufactures GRP water tank panels since 1987, with the transferred technology from Japan, using the technically advanced Sheet Moulding Compound (SMC) under 'hot press' production method, where SMC is subjected to high pressure and temperature to form the panels. Potaglas GRP panels produced using SMC, are dimensionally accurate, uniformly strong and extremely durable under all weather conditions.
PSB Corporation Singapore & The Standards and Industrial Research Institute of Malaysia (SIRIM) have certified Potaglas GRP panels to Singapore Standards SS245 : 1995 "Specifications for Glassfibre Reinforced Polyester Sectional Water Tank."
Panel Material Characteristics
Materials of Construction
Internal Reinforcement Design
External Reinforcement Design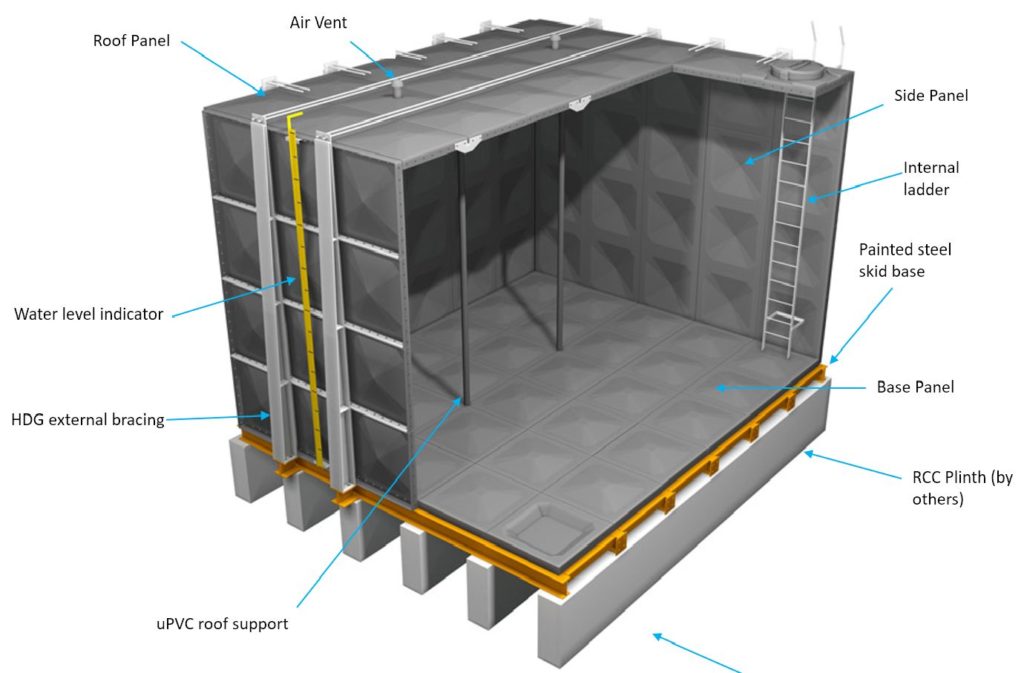 Accelerated Weathering Test
Potaglas Malaysia and SIRIM, in a joint research project, have subjected Potaglas GRP panels through 'accelerated weathering' tests, In these tests, Potaglas GRP panels maintained their structural integrity for about fifteen years of simulated service life, in tropical weathering conditions, fully demonstrating their long term durability.
Today, Potaglas GRP water tanks supply millions of gallons of clean, drinking water in many parts of the world
Design Conditions
Structural analysis using Finite Element Method (FEM) is used to test the design of the panel as well as the reinforcement system.
GRP tanks (like any other water tank) require careful planning for the foundation below the tank. The foundation of the tank is responsible for spreading the load of the GRP tank evenly to the load bearing structure below it.
The foundation has 2 parts:
Civil structural foundation (by customer) in the form of parallel RCC plinths (also referred to as 'RCC inverted beam' or 'RCC upstand beam'. In special cases where civil foundation is not possible, steel structural foundation can be provided. In case of elevated tanks this foundation is responsible for achieving the elevation required for the tank
Steel skidbase (supplied by Smartage) which is placed on top of the RCC plinths above. This skidbase is a steel grid comprising of parallel and perpendicular steel sections bolted or welded to each other in order to provide a uniform and level support to the edges of each and every GRP tank base panel.
Example of RCC Plinth
Example of MS structural tank base
Example of MS structural tank base
RCC Plinth spacing guidance
Due to the modular nature of GRP tanks, they exhibit inherent flexibility in shape as well as ability to be modified later on.
Shape Flexibility
Smartage GRP tanks can be designed and installed in non-rectangular shape such as C-shaped, U-shaped, Odd shaped which makes it possible to utilise them in sites with space constraints.
Flexibility to modify later
Smartage GRP are assembled at site using fasteners. It is thus possible to do the following changes to the tank even after the tank has been commissioned.
Dismantle the entire tank ans re-install it at a different location (useful for use as temporary tanks for construction water). This makes it very useful for projects which are partially occupied, and partially under construction but require water storage storage for the occupied portion. GRP Tanks can be dismantled and re-installed in the new location
Dismantle partial tank, in order to extend the tank and increase/decrease the capacity of the tank
Piping Connections and drainage

Piping connections up to 600mm diameter are possible by the use of 'Flat' panels specially designed to accommodate piping flanges. Please see below for an example.
Flanges can be of MS with HDG or UPVC or PP etc. The most common type of flange used is hot dip galvanised MS fixed using SS bolts and nuts.
The base of the GRP tank is specially designed for complete drainage. This is achieved by having base panels which are 'convex' in shape, combined with a drain or sump panel which is concave (see image below) Due to this, when the tank is drained, all the water is drained out efficiently.
This convex design also increased the strength and leak-free performance of the base of the tank.
Elevated Reservoirs (Tanks)

GRP Tanks are an excellent option for elevated water tanks, by using steel structure to achieve the elevation. Large elevated tanks can be designed, supplied and installed in a matter of weeks, instead of the 6 months or more that is required for making the same tanks in concrete, due to the heavy nature of concrete.
The steel elevation structure can be designed to take care of extreme seismic/cyclonic conditions as well.
Potaglas GRP Tanks supplied by Smartage have all necessary certifications in place
ISO 9001
WRAS UK
SIRIM Singapore Standard 245
SIRIM Malaysia Standard 1390